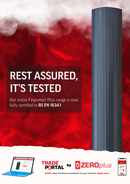 Description
Finprotect Plus finger protection strips are anti-trapping devices that protect children's fingers at the most dangerous side of the door: the hanging side.
This is the side of the door where accidents can have serious consequences for thousands of children every year. It is so easy for little fingers to be trapped,
crushed or pinched as a door closes. Fitting Finprotect Plus at the hinge side stops children's fingers getting trapped and prevents every parent's worst nightmare.

Finprotect Plus is ideal for use in play schools, nurseries, schools, supermarkets, family restaurants, fast food outlets, hotels, hospitals, doctors' surgeries,
libraries, leisure clubs, day-care centres, elderly persons' homes… in fact any building likely to be frequented by children or elderly people.
It is quick and easy to install and keeps functioning year after year.

Manufactured in EU.

Tests
UK: Finprotect Plus is one of the first finger protection devices to be successfully tested to the new British Standard: BS 8613:2017 Finger protection devices for pedestrian doors.
Furthermore it was tested to the more onerous Class 2 Device classification of this standard: products which prevent access to the gap when force is used, or eliminate the gap.
Successfully tested to Grade 4 (240 hours neutral salt spray exposure) in accordance with BS EN 1690:007 Building Hardware – Corrosion Resistance.

EU: Finprotect Plus has been tested to one million cycles at SHR (Holland) and is guaranteed for five years, subject to correct installation and fair wear and tear.
It has been tested for safety, function and durability at LGA Nürnberg (Germany) and for fire retarding M1 at CSTB (France). TÜV certified.
Orders placed from educational settings may be eligible for a discount. Please contact us before ordering to see if you're eligible.
Payment & Security
Your payment information is processed securely. We do not store credit card details nor have access to your credit card information.